[ad_1]

VISAKHAPATNAM: The district administration is planning to complete the land acquisition for the government's housing for poor scheme by the end of June.
It has already acquired more than 90% of the required land and developed layouts and plantations on it. Since the distribution of house sites was delayed, the district received an additional 25,207 new applications, which required another 750 acres of land.
For 7,925 new beneficiaries in Visakha rural, 190 acres of land is needed, of which 127 acres of government land has been identified. The scheme will be launched on July 8.
"We need small parcels of land around two to four acres in rural area and more is needed in the urban area," joint collector Venugopala Reddy said.
District authorities have acquired land from around 3,000 farmers, including pattaland and assigned land. All those who had to give up their land were given land pooling ownership certificates (LPOC).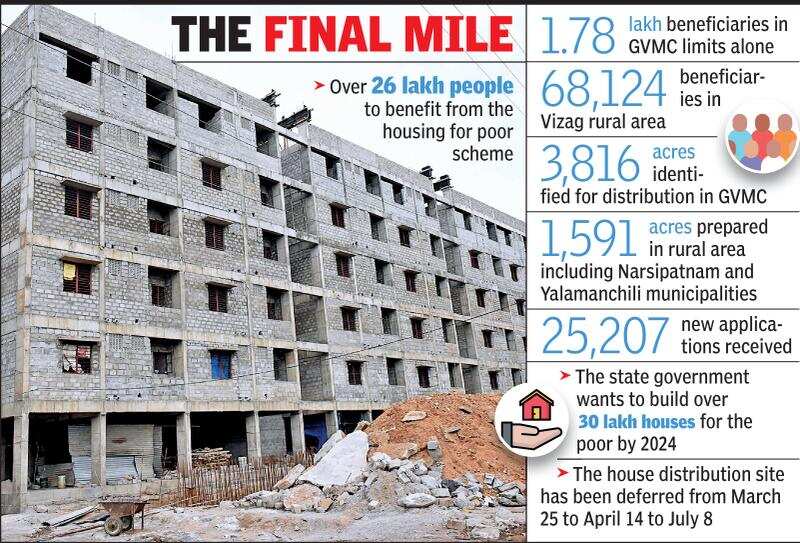 The government has planned to distribute around 27 lakh house sites to the poor across the state. More than 2.4 lakh people are set to benefit in Visakhapatnam district alone. As per the guidelines, beneficiaries in the rural area will get 72 square yards of plot and 50 square yards in urban area.
"We have acquired the land, including government, assigned and small chunks of patta land. We have formed 897 layouts, including 767 layouts in government land in rural areas, including Yalamanchili and Narsipatnam municipalities, and 65 layouts in the Greater Visakhapatnam Municipal Corporation limits," Venugopala Reddy added.
GVMC has around 1, 78,397 beneficiaries, of which 25,080 will get houses from Township and Infrastructure Development Corporation (Tidco) that was commissioned by the previous government.
For the remaining beneficiaries, the district authorities have acquired 3,816 acres.


[ad_2]

Source link